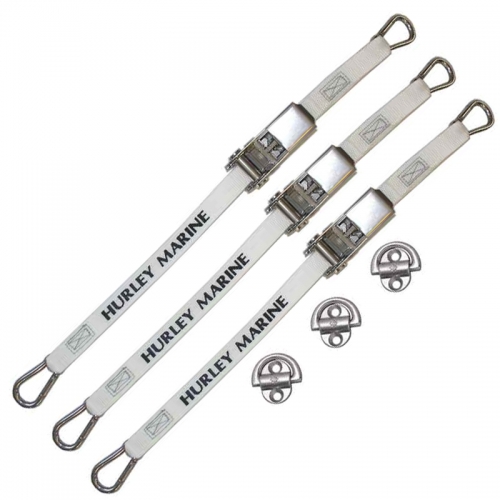 3 POINT TIE DOWN SYSTEM
£179.99
3 POINT TIE DOWN SYSTEM
We recommend starting with a minimum of a 3 Point Tie Down to tie your dinghy down during transport. One at the bow, one at the stern, and another over the inboard pontoon. Three Folding Padeyes for the correct location every time. Click here for Traditional, H2O, H3O or Chock illustration.
We also offer a 4-Point Tie Down Package.
3 Point Package includes:
• 3 Stainless Steel Ratchet Straps
– Adjustable Strap 1″ x 5′, LOA 6 feet
– Breaking Strength: 1000 pounds
– Working Load Limit: 333 pounds
– Stainless Steel Carabiners
– Color: White (Polyester Webbing) WEBBING HAS NO LOGO!
– Will not stretch or bleed when wet!
• 3 Stainless Steel Folding Padeyes
– Use M6 flat head screws or bolts
– Backing Plates Optional