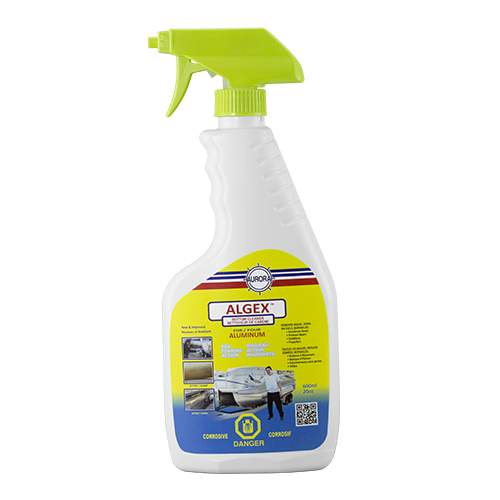 ALGEX™
ALGEX™ aluminum boat bottom cleaner is the world's 1st aluminum boat cleaner especially invented for safely cleaning pontoons and aluminum boats. Use ALGEX™ to clean aluminum boats, aluminum pontoons, Outdrives, Sterndrives and Propellers. ALGEX™ will remove Algae, Barnacles and Zebra Mussels on your aluminum boat, but it will not Pit Aluminum or Strip Paint.
ALGEX™

IS SAFE TO USE
Won't darken aluminum, stainless steel or cause pin holes. Won't damage Aluminum Casings or Remove Paint.
HOW ALGEX™ WORKS:
ALGEX™ works by quickly penetrating and breaking the bond between the algae and the aluminum so it can be easily and completely removed by pressure washing or scrubbing and rinsing with a garden hose. It also softens Barnacle, Zebra and Quagga Mussel shells and adhesive to make removal by scraping easier.
Before Application After