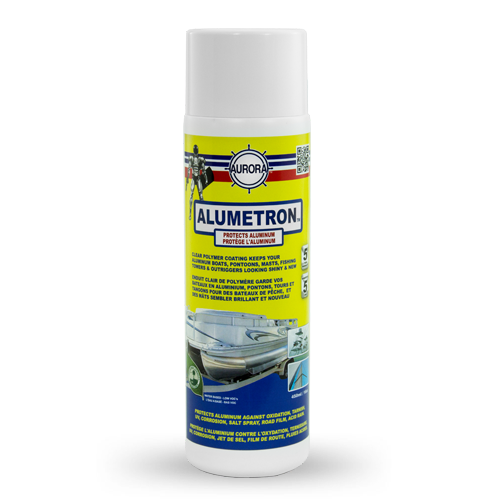 ALUMETRON™ Fights Corrosion And Protects Aluminum up to 10 YEARS. Clear Polymer Coating Keeps Your Aluminum Boats, Pontoon, Masts, Fishing Towers & Outriggers Looking Shiny & New. It works best when used with our race proven and fisherman approved bottom coat, VS721™
ALUMETRON™ is a "Direct To Metal", clear, polymeric coating that bonds to the aluminum chemically to protect it against environmental damage. It's a high performance finish coat with exceptional adhesion and is suitable for application above and below water. It provides protection against ozone, salt and fresh water, staining, tarnish, pitting, acid rain, road film, salt spray and salt air. It can be used on raw and anodized aluminum is also suitable for protecting galvanized steel, brass, bronze and copper.

ALUMETRON™ cures to a clear, glossy, durable finish and can maintain the shiny finish of aluminum for up to 10 years when properly applied and maintained. It's a water based coating with low VOCs and without hazardous, corrosive or flammable ingredients, making it safe to use and Environment Friendly. Read the Warranty Documents for full description of Standard 3 year and 5 Year Extended Warranty Coverage.

ALUMETRON™ is an easy to apply clear polymer coating that bonds chemically and mechanically to aluminum for a smooth, durable, protective finish that resists environmental damage and attachment of dirt. It keeps your aluminum looking shiny and new all season even with constant water immersion.
DIRECTIONS
PREPARATION:
New Aluminum: Clean & degrease aluminum. Wet aluminum with water, spray BOAT CLEAN PLUS™ onto surface andwash with a MARINE POWER MITT™, cloth, sponge, or pressure washer. Hot water improves cleaning. Rinse and dry.
Fouled Aluminum: Remove fouling from aluminum with ALGEX™. Clean & degrease as above.
COVERAGE:
450ml / 16oz- 250 ft²

APPLICATION: Surface must be clean and dry.
WIPE: Apply 4 thin coats ALUMETRON™. Wipe on with a lint free cloth pad, in long, even, overlapping strokes. Do not overwork application or bubbles and streaking will result.