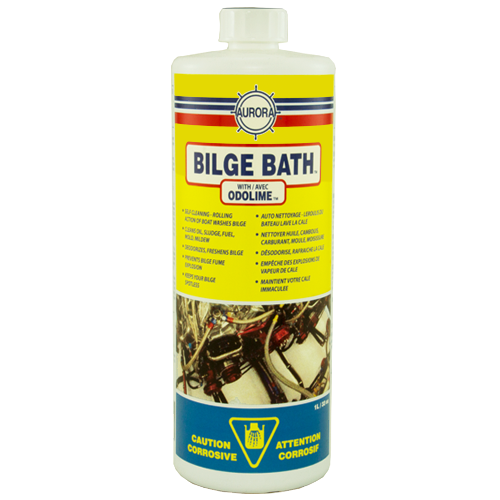 BILGE BATH™ is Self Cleaning!
BILGE BATH™ Emulsifies Oil and Fuel, Washes Sludge from Walls for Easy Pump-Out and Knocks Out Offensive Odors.
BOAT BILGE CLEANER WITH ODOLIME™
BILGE BATH™ is self cleaning, Rolling Action of Boat. It Washes Bilge & Emulsifies Oil, Grease, Fuel, Sludge and More.
BILGE BATH™ is used by Professional Fishermen and Charter Boat Operators. Makes your boat safe by protecting your boat bilge against vapor explosions.
WHY TO USE BILGE BATH™
Emulsifies Oil & Fuel for Easy Pump Out
Washes Sludge from Bilge Walls
Knocks Out Offensive Odors
Self Cleaning because of The Natural Rolling Action of Your Boat
Protects Against Vapor Explosions
BILGE BATH™ IS EASY TO USE:
DIRECTIONS:
BILGE BATH™ requires use with water for best results.
INITIAL TREATMENT:
Pour 200 ml (7 oz) BILGE BATH™ for Each 3 meters (10 ft) of boat length into bilge. Allow time for BILGE BATH™ to clean & emulsify grease oil, fuel, sludge, scum & grime. Pump your bilge into suitable container for disposal in shore facility. Follow with regular treatment.
REGULAR TREATMENT:

Pour 150 ml (5 oz) BILGE BATH™ for each 3 meters (10 ft) of boat length into empty bilge. This will remain to keep bilge clean & fresh. Pump out as necessary. Repeat regular treatment.
GENERAL CLEANING:
For cleaning inaccessible areas, fish holds, fish oils, offal and other soil, mix 45 ml BILGE BATH™ per litre of water (1.5 oz per quart). Wash with mop, scrub brush or rag & rinse with potable water.
KEEP OUT OF REACH OF CHILDREN
SHAKE WELL BEFORE USING
DO NOT FREEZE
CAUTION:

Avoid contact with eyes.
FIRST AID TREATMENT:

Contains Sodium Metasilicate. If splashed in eyes or on skin, flush thoroughly with water.
Oil & Water without BILGE BATH™ vs Oil & Water with BILGE BATH™