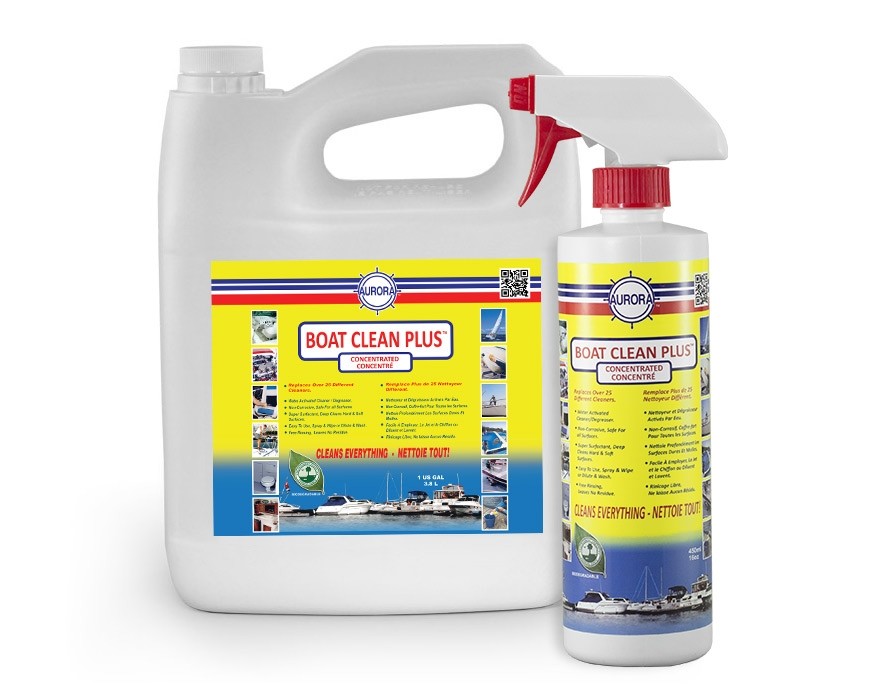 BOAT CLEAN PLUS™
A Free Rinsing, Deep Penetrating, Concentrated, Water Based, Water Activated, Boat Cleaner and Degreaser. It's tough on dirt, yet gentle on all boat surfaces, humans and the environment. It replaces over 25 different boat cleaners which means that it reduces your cleaner inventory, saving you money and storage space in your cleaning locker. It's so versatile that in addition to using BOAT CLEAN PLUS™ for heavy duty cleaning jobs in the spring and fall, you'll also want to keep a bottle handy on the boat to tend to those inevitable boating mishaps that threaten to ruin your day on the water. This amazing cleaner even comes with a 100% Customer Satisfaction or Your Money Back Guarantee! It may just be the best boat cleaning product that you'll buy all year.
BOAT CLEAN PLUS™ WORKS HARD SO YOU DON'T HAVE TO.
CLEANS:
Dirt, Grime, Grease, Oil, Salt, Slime, Blood, Fish Bait, Grass Stains, Mold, Exhaust Soot, Pet Urine, Spaghetti Sauce, Ball Point Ink (except from vinyl), Red Wine, Soap Scum, Bird Feces, Food and Beverage Spills, Collar and Cuff Stains, Cosmetics, Shoe Polish Scuffs, Cosmetics, Tobacco Stain, Exhaust Soot, Waterline Scum.
USE FOR:
Boat Wash, Cleans Bird Poop and Insects, Remove Red Wine, Blood, Spaghetti Sauce from Upholstery and Carpets, Shampoo Marine Carpets, Sail Cleaner, Cleaning Walls, Headliner, Cabinets, Refrigerators, Ice Boxes, Garbage Cans, Counter Tops, Stoves, BBQ's, Showers, Cleaning Salt Spots, Golf Clubs and Balls, Deck Furniture, Hatches, Port Lights, Running and Deck Shoes, Generators, Engines, Laundry Bleach Substitute. Cleaning Fiberglass, Aluminum, Rubber, Vinyl, All Synthetic and Natural Fabrics.
BENEFITS OF BOAT CLEAN PLUS™ ON YOUR BOAT:
FREE RINSING:
No residue or soap scum to attract and hold dirt or impair attachment of protective coatings and polishes. Soap scum is food for mold. BOAT CLEAN PLUS™ does not promote mold growth.Ideal aluminum boat cleaner, fiberglass boat cleaner, pontoon cleaner, boat hull cleaner. Use to prep the surfaces for application of ALUMETRON™, SURE STEP™, PREMIUM BOAT SHINE™, VS721™.
CONCENTRATED:
Economical. Save money. Save storage space. You control the concentration for best performance by using a little more or a little less to get optimum results.
WATER BASED:
Works as tough as solvent based degreasers without the harmful VOC's and residue. Leaves the surface clean, with no solvent or oily residue.Ideal for prepping aluminum and pontoon boats for application of ALUMETRON™ clear coat.
WATER ACTIVATED:
Works best on a wet surface. The water on the surface works to dilute the concentrate, saving you money while activating the cleaner for maximum performance. Ideal as a boat cleaner and boat wash. Simply wet the boat and mist on as much BOAT CLEAN PLUS™ as you need to cut through the grime, dirt, oily residue from pollution fall out, bug splatter, bird poop, etc.
BOAT CLEANER AND DEGREASER COMBINATION:
No need to use multiple products to degrease surfaces and then remove the degreaser and then the soap residue in order to clean and prep surfaces for the application of coatings. BOAT CLEAN PLUS™ does it all in one shot and it's free rinsing so there's no residue. So effective that Boat Manufacturers use it in the plant to replace all their solvent based degreasers, acid cleaners, soap and detergent cleaners with this one environment friendly product.
DEEP PENETRATING:
BOAT CLEAN PLUS™ penetrates deep into the surface to get it completely clean, not only on the surface. That's why it's so effective at removing pet urine from carpets, red wine and blood from fabrics, grass stains, soap scum and so much more. It not only penetrates but breaks up the dirt and grime molecules so they can safely and easily be rinsed away.
LOW SUDSING:
Copious billows of suds being rinsed into the water or even onto land is not good for marine life or plant and animal life. Reducing suds to a minimum helps protect the environment and yet BOAT CLEAN PLUS™ outperforms most other cleaners on the market.
REPLACES OVER 25 DIFFERENT CLEANERS:
Life happens on a boat. Food and beverage spills, bird poop, mold, fish bait and blood, red wine and so many other unforeseen incidents. Now you can enjoy the convenience of one cleaner that can solve these problems instantly. No need for dozens of specialty cleaners. Not only will it save your boat, it will also save you money and space on your boat or in your dock locker. This cleaner is a Must Have for all boats.
SAFE. IT CAN BE USED ON ALL SURFACES:
BOAT CLEAN PLUS™ is the best boat cleaner for your boat. You can use BOAT CLEAN PLUS™ as Fiberglassboat cleaner, aluminum boat cleaner, Stainless Steel cleaner, Plastic, Rubber, Chrome cleaner, Vinyl Cleaner, Boat Paint Cleaner, Nylon, Cotton, Polyester, Dacron, Kevlar cleaner & More.
PHOSPHATE FREE:
Many cleaners still contain phosphates which can encourage excessive algae growth and even toxic algae blooms. BOAT CLEAN PLUS™ maintains its tough cleaning action without the use of phosphates.
ENVIRONMENT FRIENDLY, BIODEGRADABLE AND SAFE FOR SENSITIVE WATERWAYS:
BOAT CLEAN PLUS™ is biodegradable so it breaks down rapidly after cleaning and rinsing with minimal impact on the environment. A lot of boat cleaning takes place on the water or at the water's edge so it's important that any effluent does not impact the water. It is VOC free so there's no impact on the ozone layer or air that we breath and it safe for humans and your boat.
COMMERCIAL USE:
BOAT CLEAN PLUS™ is such an incredibly tough cleaner that it's trusted by Boat Manufacturers in their plants to clean everything. They are replacing all their high VOC solvents, dangerous acid cleaners and phosphate based detergent cleaners with EPA friendly BOAT CLEAN PLUS™. It's used for cleaning welding smut, degreasing pontoons, washing and detailing boats before delivery and so much more.