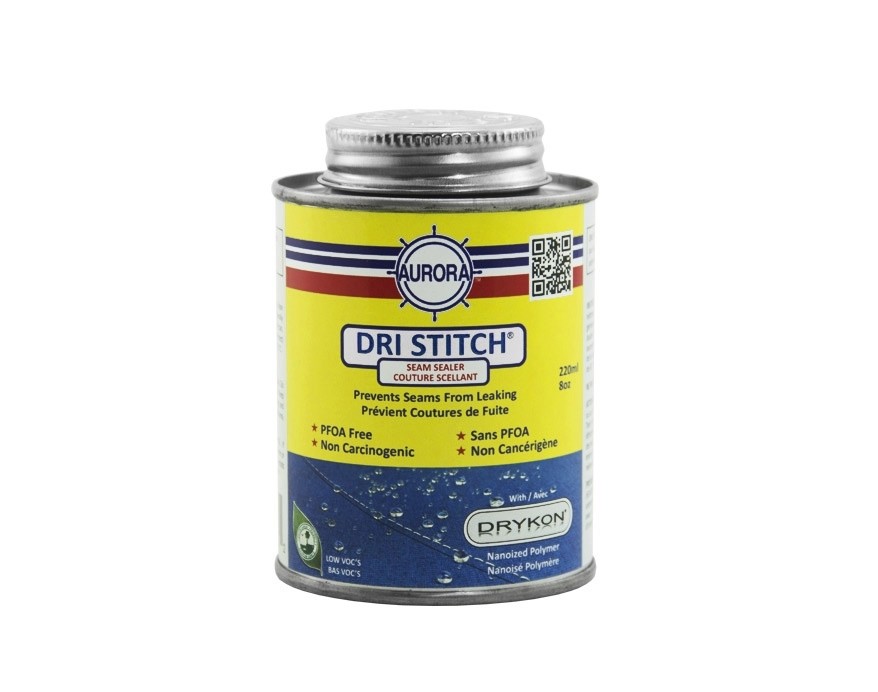 DRI STITCH®
- SEAM SEALER. Prevents Seams From Leaking. DRI STITCH® penetrates into needle punctures in fabric caused from sewing, coating each thread with DRYKON® Nanoized Polymer to seal the voids, preventing leaks.
PFOA Free
Non Carcinogenic
HOW TO SEAL LEAKY SEAMS IN CANVAS BOAT COVERS WITH DRI STITCH.

1. Fabric must be clean and dry. Clean soiled fabric with FABRI-KLEAN® and allow to dry.
2. Apply DRI STITCH® to both sides of seam with applicator inside can. Allow to dry and cure for 24 hours.



DRI STITCH® uses the latest DRYKON® nanoized polymer technology for superior performance and durability. DRI STITCH® is guaranteed PTFE and PFOA Free. It's Non Carcinogenic, Non Toxic, Low VOC's, Environment and Human Friendly.

When dry, DRI STITCH® is clear and does not affect the color, feel or breathability of the fabric. It's safe for Sunbrella, acrylic, polyester, cotton and other synthetic and natural fibers.

Seams leak even on brand new canvas boat covers, boat tops, T tops, Biminis, Pontoon boat covers, camper tops, dodgers, sail covers, awnings and tents because the needle used to sew the fabric together spreads the tight weave of the fabric allowing water to penetrate. The clear liquid DRI STITCH® penetrates these punctures and fills them with DRYKON®, preventing water from penetrating while allowing air to continue to pass through, maintaining the breathability.

Marine canvas such as Sunbrella, Top Gun and others are mostly made from synthetic threads made from acrylic, polyester, nylon and various other materials and blends. They are woven tightly together and then treated at the mill to waterproof them, while still allowing the fabric to breath. This is important as non breathable fabrics such as vinyl will hold moisture from humidity and condensation which can result in mold growing on the surface and spreading throughout the boat as well as the enclosure. Over time the waterproofing coating will wear and degenerate due to abrasion, washing, and general use and the canvas will begin to leak. Dirt and soap scum will also cause water to wick through the fabric and is food for mold. Soaps and detergents should not be used for washing Sunbrella or other marine canvas. Only free rinsing cleaners such as FABRI-KLEAN® should be used to maximize the durability and life of your boat covers.

If the fabric on your top begins to leak, waterproofing can easily be restored by spraying it with CANVAS SHIELD. Many boat owners apply CANVAS SHIELD on an annual basis as a preventative measure. Better to keep the boat cover or pontoon cover, waterproofed rather than dealing with the clean up and stain removal from mold and a leaky boat top. Much like regular oil changes in your car. You don't have to do it. You can wait until the motor starts to smoke and then repair or replace it. In the long run, CANVAS SHIELD is cheaper and more convenient than repair or replacement of your marine canvas or Sunbrella boat top or cover.

Seams will also begin to leak on older canvas covers due to stretching and pulling and entrapment of dirt and soap scum. DRI STITCH® can also remedy this situation quickly and easily. It's proven to seal the seams in one application and the cover does not have to be removed from the boat, making it easy and convenient. Now there is no excuse for a leaky, moldy boat cover, pontoon cover, sail cover, dodger or bimini. Mold on sail covers will rapidly transfer to the sail and the stains cannot be removed. It's better to keep them dry.

DRI STITCH® uses the latest DRYKON® nanoized polymer technology to seal up the seams. It's quick and easy to use. Make sure that the canvas is clean and dry and then just wipe the seams on both sides with the deep penetrating, clear, liquid DRI STITCH®. It seals up the holes made by the needle punching through the fabric and when it dries it' all but invisible. It contains UV inhibitors to reduce damage from the sun's rays and extend its life.

Older technologies used wax, silicone rubber, PTFE or Teflon which emits harmful and dangerous PFOA's which are carcinogenic and toxic. DRYKON® is guaranteed PTFE and PFOA Free and is low in VOC's making it environment friendly, human friendly and boat friendly. Wax and silicone rubber leave a heavy build up which detracts from the beauty of your canvas boat top or cover, making it look ugly. DRYKON® uses Nano Particles to fill in the needle punctures preventing water migration while still leaving minute space for air, which is a smaller molecule size than water, to continue to pass through allowing the fabric to breath.

DRI STITCH® has many other uses as well. It can be used on the seams and stitching of tents, awnings, back packs, cushions, garden furniture, BBQ covers, and anywhere that waterproof seams are required.