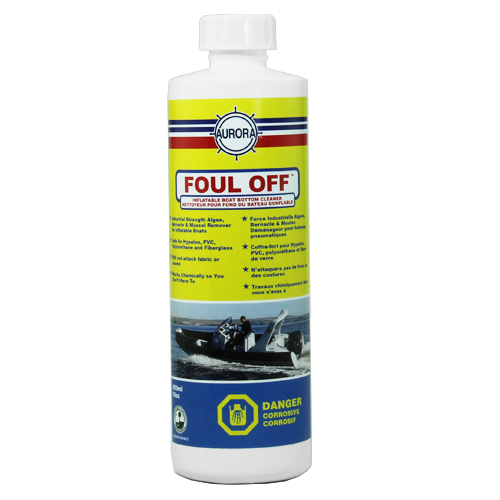 FOUL OFF™
Tough on removing heavy marine growth like barnacle rings, but is Safe to use on Hypalon, PVC, Polyurethane, Fiberglass and Will not attack adhesives.
WORKS CHEMICALLY - SO YOU DONT HAVE TO!
Simply ROLL OR SPRAY ON, and RINSE OFF

FOUL OFF™

GIVES PROVEN RESULTS:
A Clean Boat Bottom Equals Better Boat Performance.
How to use:
Barnacle, Mussel & Algae Remover for Inflatable Boats and RIB's. Safe to use on Hypalon, PVC, Polyurethane, Fiberglass. Will not attack adhesives.
• ROLL OR SPRAY ON – RINSE OFF
• NON-FUMING
• WORKS CHEMICALLY
• ENVIRONMENT FRIENDLY
DIRECTIONS:
1. Use scrub brush or high pressure water hose to remove loose algae. Brush, scrape or power wash off loose mussels & barnacles.
2. Apply FOUL OFF™ to marine growth using chemically resistant paint roller or garden sprayer until all algae, crustaceans and stains are covered. Let stand 30 – 60 minutes. Keep wet. Agitate with a scrub brush. Brush or scrape off softened shells and adhesive with scrub brush, or plastic or wooden scraper.
3. Rinse off well with water. Repeat if necessary until the bottom is clean. Remaining scuff marks and stains may be removed with SPEED CLEAN™.
4. Apply POLY GUARD™ to the fabric and REPELIN™ to the bottom for extended protection.
CAUTION:
Do not mix with bleach or ammonia. Do not swallow. Avoid contact with eyes, skin and clothing. Wear safety glasses. Handle with care. Keep out of reach of children. Wear respirator when spraying.
FIRST AID:
Contains: Low pH Organic Salt and Hydrochloric Acid. If splashed in eyes rinse with water for 15 minutes. If swallowed call a Poison Control Centre. Do not induce vomiting. See a doctor immediately. If on skin, rinse well with water.