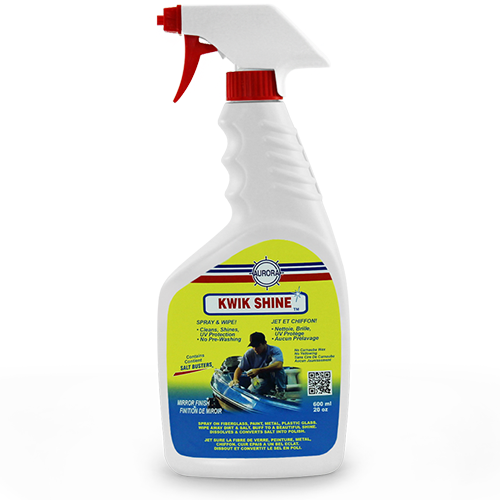 KWIK SHINE™
All in One Boat Cleaner, Polish and UV Protector For All Hard Surfaces. Use it on Fiberglass, Paint, Aluminum Towers, Outriggers and Rigging. With KWIK SHINE™, you don't need to use water - Just Spray On and Wipe. KWIK SHINE™ actually Converts Salt Into Polish. You will love the Brilliant, Mirror-Like Finish! One Bottle contains 600 ml of KWIK SHINE™.
CLEAN YOUR BOAT WITHOUT USING WATER WITH THE BEST BOAT CLEANER FOR ALL HARD SURFACES
KWIK SHINE™ is the best product for boat maintenance. KWIK SHINE™ will clean your boat without water. Simply Spray Right Over Dirt or Salt. It Cleans, shines & protects your boat against Soiling & Staining. KWIK SHINE™ cleans: Dirt, Grime, Bug Splatter, Bird Droppings, Light Oxidation & Fuel Spills. KWIK SHINE™ Won't scratch and it will Dissolve salt and convert it into polish. Detail your boat in minutes and have a mirror finish shine!
ADVANTAGES OF KWIK SHINE™ AND WHY TO USE IT:
No Wax
No Build-Up
No Yellowing
No Fingerprints
Anti-Static
USE THE BEST BOAT CLEANER, KWIK SHINE™, ON ALL HARD SURFACES:
Fiberglass, Glass, Plexiglass, Stainless Steel, Aluminum, High Gloss Paint, Metal Flake & Varnish.
KWIK SHINE™ IS IDEAL FOR USE ON:
Port Holes, Hatches, Appliances, Instrument Panels, Windshields, Arborite & More


* Do not apply to wet surfaces


HOW TO USE KWIK SHINE™
Actually Converts Salt Spots Into a Cleaner & Polish!



Spray Directly onto Salt Spots,
Dirt or Oxidization



Buff to a Brilliant, Hard,
Anti-Static Shine



Get a Showroom Shine Anytime
Great for Regular Maintenance