STAINLESS SHIELD® 450ml
£27.99
STAINLESS SHIELD®
Is a clear, water based, polymeric coating, formulated to coat and protect marine grade Stainless Steel, such as 304 and 316, against attack from chlorides from salt water and air, airborne pollutants and iron oxide contamination, which results in rusting and rust stain.
It's an easy to use product;
simply wipe 2 or 3 coats onto clean, rust free Stainless Steel,
allow to cure and say Good Bye to rust and rust stains, even in tropical salt water environments.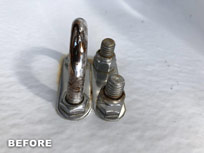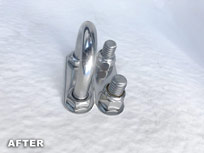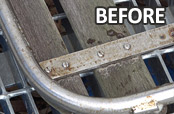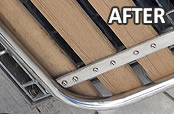 STAINLESS SHIELD® displays excellent performance as a direct to metal finish for Stainless Steel, with excellent adhesion and water resistance. It dries to a clear, glossy, hard and durable finish. It's environment friendly, water based, very low VOC's and does not contain any hazardous or toxic ingredients so it's safe to use. No primer or special preparation is required.
AURORA BOAT CARE PRODUCTS are designed to be compatible with each other. By using the "System Matched" products, you can be assured of guaranteed results every time. No more guessing. No more botched jobs. No more making do with inferior products. Just perfect, professional, results every time. We don't just sell products, we sell Boat Care Solutions.
STAINLESS SHIELD® is not another, temporary, oil based protectant but a durable clear, polymeric coating that will Shield your Stainless Steel against harsh environmental attack, corrosion and pitting for years. No more rusting. Just, easy to maintain, bright, shiny Stainless Steel. Isn't that what you've always wanted?